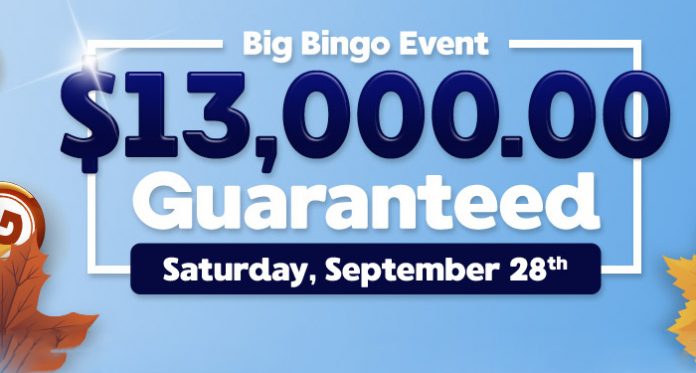 It's time to win huge cash prizes on Saturday, September 28 EDT at Downtown Bingo as we guarantee $13,000 to be won in our fantastic $13,000 Guaranteed Big Bingo Event.
Don't miss Downtown Bingo Big Bing Event worth $13,000, guaranteed! The Big Event will take place on Saturday September 28 with more guaranteed prizes waiting to be won all evening long!
Every month Downtown Bingo guarantees its players the biggest prize in the bingo industry. They have delivered this guarantee with three top of the hour games paying out $1,000 each and then one big game boasting a $10,000 grand prize!  The fun and excitement takes place in the Tourney Bingo room starting at 7:00pm EDT and running all night long with the big game playing at 10:00pm.
Cards only cost $2.00 each for the $1,000 guaranteed games and $5.00 each for the $10,000 big event. If you don't land one of the guaranteed prizes, no worries! Chat games will play throughout the night giving bingo players extra chances to win some extra bonus monies to purchase additional cards for the big event.
Will you be the next big winner? There's only one way to find out! Join Downtown Bingo today and purchase your lucky cards for the big game! New players receive a deposit match with the first deposit of 500% plus a free $5 credit! The second, third and fourth deposit also receives a 250% match.