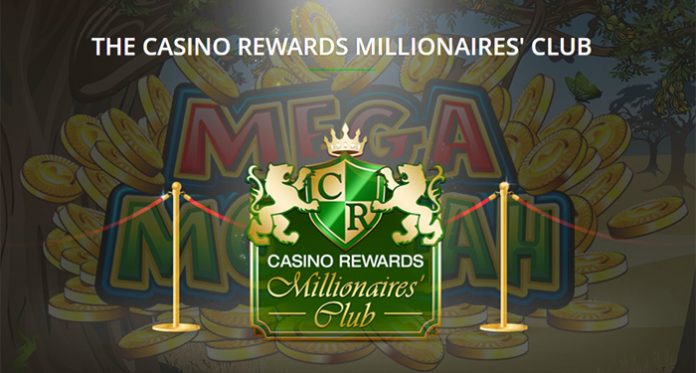 Become a Part of the Casino Rewards Millionaire Club, Join One of the Most Winning Online Casino and You Could Be the Next Mega Moolah Millionaire Member
If you've read anything about Mega Moolah then you know it is one of Microgaming's most winning online jackpots! One of the other notable experiences you will have is playing at any of the Casino Rewards brands.
The reason more players choose to play Mega Moolah at Casino Rewards brands is they make a winning combination.
Over the past several years, Luxury Casino has celebrated numerous jackpot winners on Mega Moolah. On March 5th, the casino celebrated a massive win of $12,945,668.34! This lucky players details have yet to surface but the buzz is on fire.
The big win was catapulted just one day later as Captain Cooks Casino announced another CADCA$3,308,063.71 win! One day after the huge Luxury Casino win!
E.O. trumped the world record for the biggest jackpot win on January 30th 2019 with astounding win of $20,060,204.19 at Zodiac Casino!
Other notable wins at Casino Rewards Brands include:
S.K. is an ecstatic new multi millionaire with $5,691,921.42 in the bank after playing Mega Moolah at Grand Mondial Casino on April 19, 2018!
F.D. won an incredible $4,369,065.41 on Mega Moolah at Captain Cooks Casino on March 8, 2018!
D.S. became Casino Reward's third millionaire in three months when he won $3,696,845.71 on Mega Moolah Isis at Zodiac Casino on January 14, 2018!
M.G. won $5,024,452.38 on December 18, 2017 playing Mega Moolah only a few hours after he joined Grand Mondial Casino!
Over the past five years fellow Canadians have become one of the most winning bunch, leading the top of the heap as noted below:
14 Wins – Canadian Dollar
14 Wins – Euro
8 Wins – US Dollar
5 Wins – GB Pound
4 Wins – Australian Dollar
4 Wins – New Zealand Dollar
2 Wins – South African Rand
If you have never played Mega Moolah then head over to any of Casino Rewards brands and join the millionaire club as you could very well be the next lucky jackpot winner!