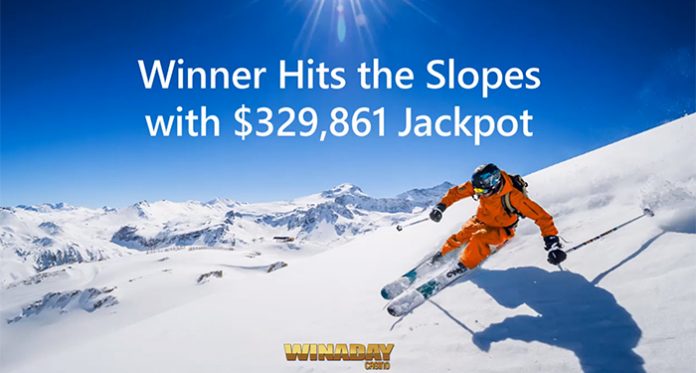 A WinADay Casino Player Has Hit a Record-Breaking Jackpot, James H., Wins a $329,861 Playing the Unique Casino's Popular Vegas Vibes Slot Game
WinADay Casino paid out a record-breaking jackpot worth $329,861. The latest jackpot winner is James H, a technician that enjoys playing the casino from his mobile. The jackpot was won playing WinADay's popular Vegas Vibes slot.
James H. said he will use some of his winnings to take his girlfriend on a dream vacation in the Alps. James also said, "I've had some big wins, but they tell me this beats the casino's record, that's kind of insane."
James added, "I play on my phone lots, not usually high bets. But I got over $400 on free spins this time so put up my bet to max. That's when I hit the jackpot! Winaday's slots are easy to play on my phone. Vegas Vibes is definitely my new favorite!"
The jackpot won wasn't a standalone jackpot for the slot, it was for WinADay Casino'os site-wide progressive jackpot. The progressive jackpot pool is contributed from every max bet made on any of the slots tied to the jackpot. The jackpot is usually won way before it hits the $300,000 mark, hence why this jackpot won is one of the site's biggest jackpots to date.
60% Game-of-the-Month Match Bonus Bonus code: GOTM May be claimed 2x per day; wagering requirement 27X. Valid Feb. 1-28, 2019
Game of the Month Cash Draw 1st prize – $250, 2nd prize – $100, 3 runners up – $50 cash prize. (VIP prizes doubled.) Every 500 rounds on Vegas Vibes earns one ticket. Winners randomly drawn and announced March 18.