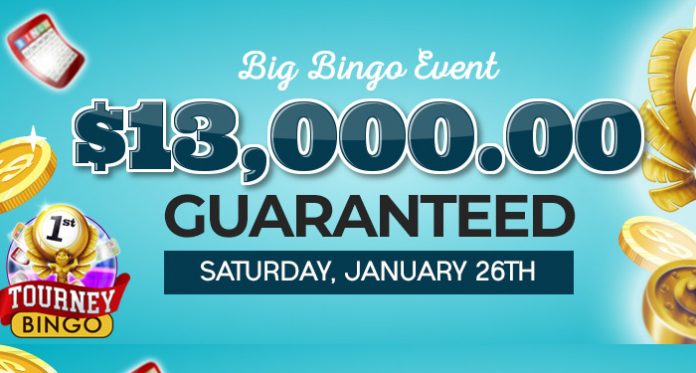 Kick Off 2019 as the Big Bingo Winner in the $13,000 Guaranteed Cash Prizes to be Won with the Guaranteed Big Bingo Event at Downtown Bingo
Every month at Downtown Bingo the $13,000 Guaranteed Big Event is scheduled. This month is no different with the big event taking place on Saturday January 26th. There is a guaranteed $13,000 to be won! Not only are guaranteed prizes waiting to be won, but guaranteed fun as well!
Downtown Bingo is still celebrating the new year with guaranteed excitement starting at 7:00pm EST. Get ready to be the next big winner, and the first of the new year, when you play three top of the hour $1,000 guaranteed games for just $2.00 per card and then the big event at 10:00pm EST in the Tourney Bingo room. Each top of the hour game will play at 7:00, 8:00 and 9:00 pm.
Don't miss out on your chance to win a guaranteed game! There's three $1,000 top of the hour games and the big event worth $10,000! All games can be pre-ordered for $2.00 and $5.00 each.
New to Downtown Bingo? Sign up today and receive a 500% match with the first deposit, plus a $5 free credit. All subsequent deposits receive a match too with 400% and 250%. Downtown Bingo hosts daily promotions with just about every deposit being recognized.