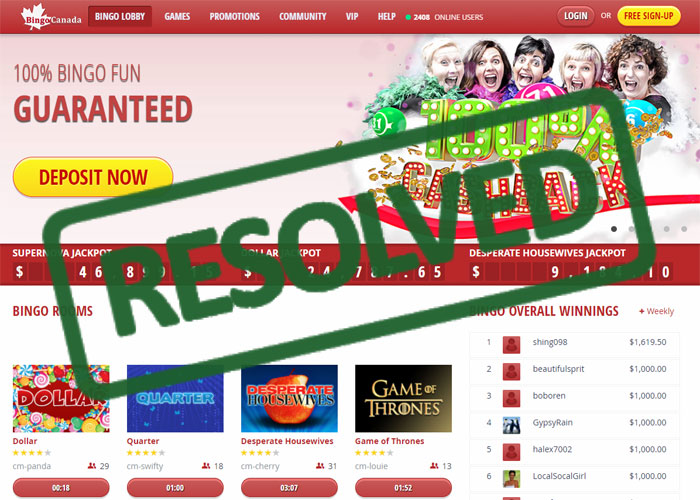 We received a complaint from a player at Bingo Canada that was having trouble getting paid her 2k in winnings.
Complaint:
I won a 10k jackpot. When I asked account manager how to withdraw he told me had to play through $6444.00 because of bonuses. That was bad enough but they won't even pay out balance now that I have done that. I have sent in several requests in the last month and have heard NOTHING back. When I chat with VIP host live chat they tell me I have to contact security. That is what I have been doing. No phone number just email address and they don't respond. No point playing at a site if you win and can't get your money. I have gone back in and played a couple more times it makes me feel like they are waiting for me to spend balance. I am now down to 2k and am not playing anymore I would just like my money.
We contacted Bingo Canada about the issue and they responded within 24hrs of the complaint.
Hi Rick,
I was informed by the bingo rep that the player's documents were approved. However, she sent incomplete banking info and was informed to send all required details. I will follow up when payment is initiated on the bingo side.
I contacted the player and she told me that Bingo Canada has been in touch with her about her documents and she also told me she was able to initiate a withdrawal. I've asked her to let me know when it goes through so I can close this one out.
This was her reply.
Hi Rick thank you so much went from not even getting a reply to verified and cash in bank in one week. Teresa
This complaint has been marked – Resolved