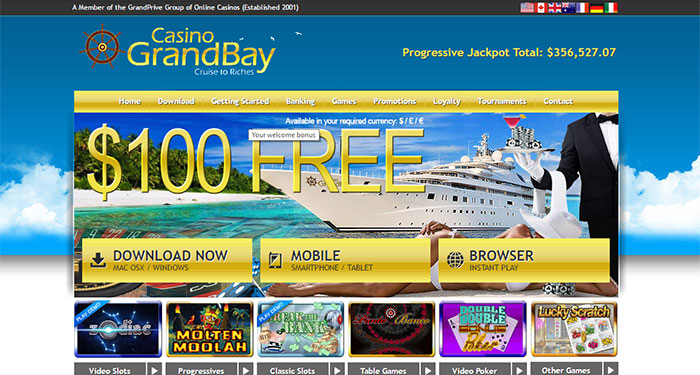 Casino Grand Bay Payout Complaint– Resolved
A player at Casino Grand Bay filed a complaint with us about the casino failing to payout her$2,176 in winnings. The problem is she was playing on bonus money and the max cashout it $150. The casino's customer support did however tell her in the beginning that she would get the $2,176 so they screwed up there but in the end the casino only has the obligation to pay the max bonus payout.
We hear this all the time from players. Make sure you check the terms of the bonus before filing a complaint. The terms are final.
Message:
I have been a player at Casino Grand Bay for 9-10 years. I   recently made a cashout (the second in 10 years – the  first  was 7-8 years ago) that I had made with loyalty  point  cashback I has accrued on my play. The cashout  of   $2,176.00  that was processed at 4/12/2016
10:49 AM (US  Eastern Standard Time). At that time they  removed the  $150.that was the loyalty point cashback  amount.. The amount  of $2026 was then processed and  payment was made to the Visa  / Debit card that I had used  for making deposits. My bank  returned the payment back   to Casino Grand Bay finance  due to insufficient  information. After a month of speaking  to every VIP host  (I have Ace Tier VIP status)  Kim –  Jeremy – Nick – Joy  etc.. I was assured over and over that  the payment would  be re-issued by courier check. Today – May  11th 2016 –  I  called once again to find out exactly  when this payment  would be processed as a month had gone by  and was told  they were only going to pay the amount of $150 because my winnings were from loyalty point  cashback. I was  told I should be grateful and that an  exception was being  made to even pay that amount. I am  shocked – horrified  beyond belief at the treatment and  disrespect this casino  has shown a loyal player with the  VIP status I have. First,  they honor my cashout and then  change their minds when the  payment bounces back?
Telling me it has been miscommunication on MY  part and their  VIP staff and that finance had made a  mistake ?? I need to  get the word out – I have been strung  along made to jump  thru hoops for a month and then slapped  in the face by  Casino Grand Bay – I feel violated. Even if  Casino Scam  Report can do nothing for me – Please post-  post and re-post  so that others will not fall prey to  these rip-off artists.
The player has now been paid her $150 bonus money winnings and although is still upset by the miscommunication she is satisfied with the outcome.
Rick:
Thank You for assisting me with regards to Casino Grand Bay – I have spoken to the operator "Justin" today May 16th and will be receiving the $150. There was definitely miscommunication all across the board. I have agreed to accept the $150 minus $30 for courier and will "take what I can get and walk away"
Thank You for your assistance without you I'm certain I would have never even received the $150 Lesson learned Thank You Again Regards CC