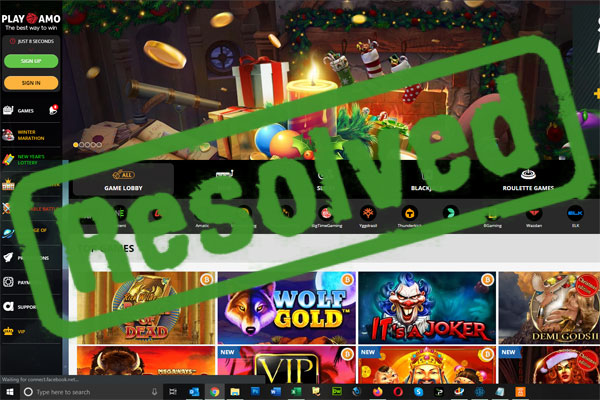 We received a complaint from a player at Playamo casino about the casino closing their account and not paying out their winnings. Playamo told the player that they had two players from one household. That is not allowed with most, if not, all online casinos. We get these complaints quite frequently (read here about the one account per household rule). Even though the casino did not specifically say the one player per household rule in their terms, they did tell me that both accounts in the household were using the accounts for fraudulent bonus abuse.
This is the complaint:
Hi,
A couple of months ago my wife opened a account at Playamo casino…. Last week I decided to open my own and won. I send all documentation required and was told that I have a duplicate account which I explain to them that my wife also had an account… in the Playamo terms and conditions it doesn't mention "only one account per household ". I email them saying that my wife will upload her documents so they can see that I'm not committing any fraud what so ever but they said the casino management made the decision and it's final… can you help me please…. I forgot to say that they took my winnings and closed my account but not
My wife's….
And this was the final email from Playamo on the complaint:
Dear Casino Players Report,

Indeed, the player said that there is only one account, however, in this case, the player has violated the Anti-Fraud Policy:

In case the player has duplicate account with bonuses, or same ID, or used few accounts in the same browser, or same playing scheme at both accounts, casino reserves the right to terminate such accounts and withhold the win. If a customer avails of registration freespins herewith his/her county differs from IP address, the administration of the casino reserves the right to terminate such accounts and withhold the win in order to avoid negative practice in the future. If a customer or group of customers are suspected to have taken casino offers for the purposes of abusing the promotion, Playamo reserves the right to void the bonus and any winnings.
So to sum things up. No matter what the terms say at the casino, don't open two accounts under one IP address (household). The casino will find out and shut down your account when you ask for a withdrawal.