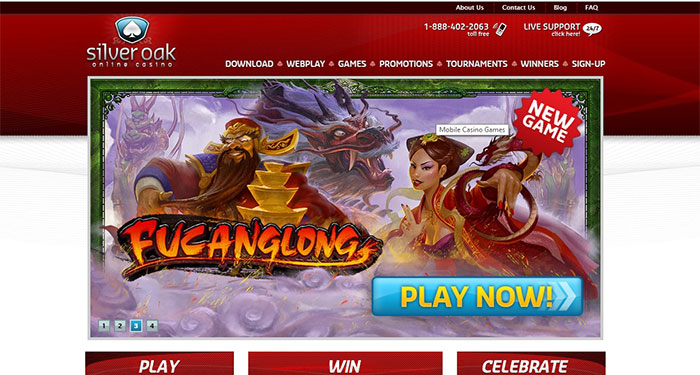 Silver Oak Casino Payout Complaint– Resolved
This is the latest complaint we received about Silver Oak Casino…
Message:
06/06/16 I received my end of month insurance money ($90.80) from Silver Oak Casino  there was No Playthrough amount  listed under my account.   I played for some time and eventually made a $100 withdrawal.   On 06/07/16 my withdrawal was denied and a Playthrough amount was added to my account in the amount of $2,700 the next day!  Wow, talk about no ethics.  To make matters worse, when I asked the Chat department for a copy of my players activity I was informed that they don't track the playthrough – but in his next breath, told me I had approx. $2,300 left on my playthrough that wasn't there the day before!!!!  But they don't track it?  Next, I asked How Was I able to Withdraw IF I had a playthrough balance, that's not possible???  Unable to answer my question the chat moderator just repeated himself saying I had a playthrough balance and disconnected the chat (some customer service there).  If they made a mistake, they should own it and process my withdrawal not try to lie and change my account on a whim.  VERY UNTRUSTWORTHY  DON'T WASTE YOUR TIME OR MONEY HERE WARNING!!!
Silver Oak Casino – Additionally, I requested a payout of $100 on 05/05/16 which was kicked back for paperwork on 05/20 the said it was approved.  As of today 06/08/16 I have still not received that withdrawal and the casino has been unable to tell me when I will get paid, if at all.  BAD PLACE TO DO BUSINESS WITH!!!
We contacted the casino and they were more than helpful in resolving this issue. It turns out that the player was playing on bonus money and of course the limitations of payouts was the issue. Always check the bonus terms and conditions before playing a bonus. That way there will be NO confusion when it comes to getting paid.
The player also had a $100 pending withdrawal and we confirmed that this was paid…
Message:
Yes I did get paid right after my last e-mail, Hallelujah!  thanks so much, not sure it would have been resolved without your help 🙂  Much appreciated
Complaint resolved