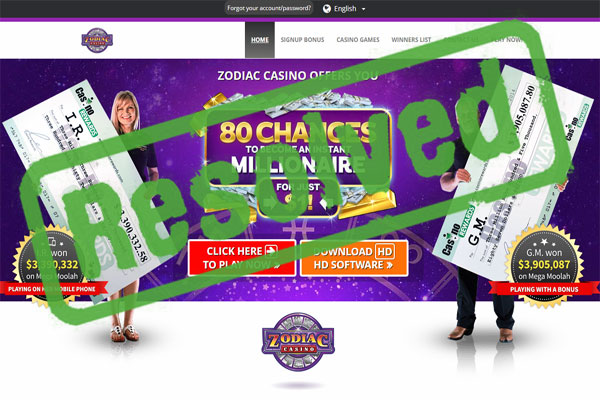 This player at Zodiac Casino asked us for help in finding out why his casino account had been locked.
Player Complaint:
I requested withdrawal of winnings on June13th. My inquiries to customer support directed me to send an email inquiry to risk management department. I sent several email queries to the risk management department and did not receive a reply. My account has been locked out and I do not know why.
We contacted Zodiac Casino and it turns out that the player knew exactly why he had been locked out of the casino.
Zodiac Casino's Response:
Hi Rick,

Sure, I had a look at the account and the account has been locked for fraud.

He has a history of chargebacks, in fact he charged back 100% of all deposits made into the casino. Our risk management department have explained this in an email to him but I see he have not asked additional questions.
If he has more questions about it then I suggest he responds to the email our risk management  sent him on the 4th of July.
Let me know if you have any more questions about this.

Kind Regards
C
After we replied to the player with the casino's response, he replied back to us with his own:
Player's response:
attention: Rick

Thanks for your message.  The accusation of fraud has caused irreparable harm to my reputation and legal action is being considered.
The facts are: 1)'  i am not a gambler. 2)
I deposited $1.00 CAD for 80 free spins.  3) I deposited a
$10.00 CAD to continue playing.  4) I had  two small wins, one for approximatel $350 and another or approximately $250 CAD.  After each win u requested a withdrawal of winnings.

The statement "he has a history of chargebacks, in fact he charged back 100% of deposits made into the casino" is false.  I do not even know what a chargeback is!

You need know that facts.  I can swear under oath that what is have written is true.

I will await your reply before I take the next step.
Best regards,
R
I hear the lawsuit threat quite a bit from players. It's usually when they are in the wrong. It's amazing how many people will threaten to hire a lawyer to battle a casino for winnings of less than $1000.
The "Facts" part of the players reply was a new one to me. "I am not a gambler" Uh yeah okay. But you deposited money to Zodiac Casino, played their games and asked for a payout. Yup, doesn't sound like anyone's gambling here folks… lol
And lastly, he doesn't even know what a chargeback is! Laughable to say the least.
Zodiac Casino is not in the business to make false accusations against their players. The casinos also take chargebacks very seriously. It's the same as giving a business money for a service and after that service is completed, you go to the business and steal back your money. The casino has every right to lock this player's account and share his history of chargebacks with the industry.
This complaint is now closed in favor of the casino.