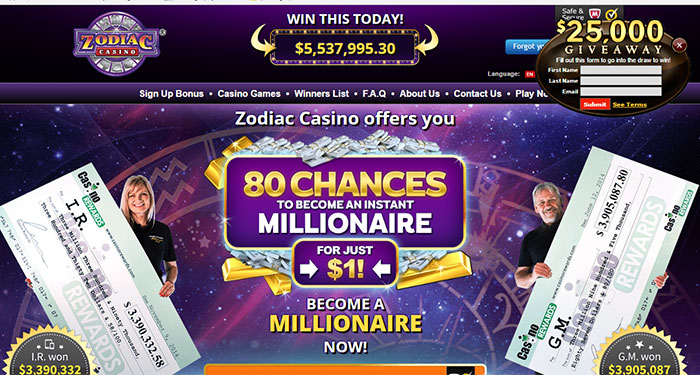 Zodiac Casino Complaint, Accused of Blocking Account, However it Was Proven that Locked Account was a Terms Violation by Player Having Two Accounts.
Recently we received a player submitted against Zodiac Casino. The player claimed that Zodiac Casino had blocked their account after winning $175.18 CAD. After some investigating however, it was discovered that the player opened two accounts. Of course the player complained that he did not know about the other account (something we hear all the time).
Sure it's possible that most players do not realize they have more than one account. This could come from opening an account years before and just forgetting about it.
Nevertheless this is a violation of the casino's terms and conditions and it is up to the player to contact support and simply ask them. It's also important to document supports answer and save it.
If the casino support says you do not have any other accounts only to find later on there is a duplicate account, you might have a leg to stand on when it comes to challenging a terms violation.
At this point, in the complaint, we would've just sided with the casino; but in this instance the player told us that Zodiac Casino offered him 1000 free spins after they told him they had blocked his account.
This is the player's complaint…
Complaint:
i win 175.18$ (CA) on zodiac casino but when i cash my win my account was block. i write to the custumer service (tchat service) and he said to contact the [email protected] and after 5 days he respond me then i have 2 account with the same e-mail and he don't want to paid me but i don't know for the 2 account. he offer to give me 1000 free spin. i don't understand how i can play 1000 spin if i don't have access to my zodiac casino account i still lock from the moment trying cash it.
I wanted to find out if the 1000 free spins offer was true, so we reached out to our contact at Zodiac for some clarification. Our contact reported to us that there was no such offer given to the player. She asked to see the email or chat log that validated the players claim about the 1000 free spin offer. We again reached out to the player and they replied with the below email. As you can see below, nothing shows anything about a 1000 free spins offer…
hi!
i received this mail and when i open this mail, i received the offer for 1000 free spin….i don't know for the 2 account..i just 1 email adress. so i win 175.18$ and he refused to paid… it's a fraud!! but this is the mail:
Hello xxxxx,
Our systems have detected that multiple Casino accounts have been created using your PC, email address or personal details.
The Casinos terms and conditions do not permit more than one real account per household, personal computer or e-mail address. This is necessary in order to reduce the casino's exposure to online losses.
As such, the winnings have been voided and confiscated.  .
Kind regards,
Risk Management
Casino Rewards
With this we concluded our complaint investigation in favor of Zodiac Casino. The player violated the terms of the casino by having two accounts with the same email. And on a side note. Even if the player had two accounts with different emails, that is still a violation and would be subject to account closure.