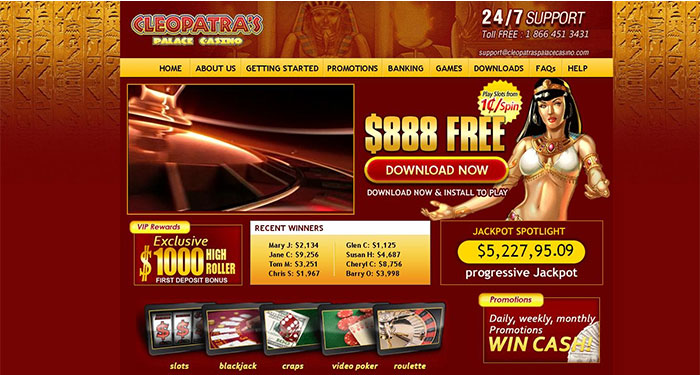 UPDATE: This scam casino is no longer online
Cleopatras Palace Casino has been added to our casino blacklist for scamming players out of their money and we are warning all players to avoid this casino.
One of our forum members brought to our attention the "lack" of attention from CPC customer support:
IT IS REAL HARD TO COLLECT FROM THIS CASINO. THEY OWE ME $2,900. THEY ARE TELLING ME THAT THERE TOO BUSY TO PAY ME NOW. THERE NEVER TOO BUSY TO TAKE MY MONEY. I HAVE BEEN PUTTING MONEY INTO THIS CASINO EVERY SINGLE DAY. I'M VERY UPSET RIGHT NOW. I NEEDED THAT CHECK …………….XOXJOYCE
We have tried several times to contact Cleopatras Palace Casino about this issue but as of today no rep has responded to our inquiries. To make matters worse this forum member has now posted this follow-up:
MARCH 4 UPDATE
THEY WONT TALK TO ME ON THE PHONE NOW. WHEN I GIVE MY NAME,THEY SAY "WE GOT A BAD CONNECTION AND THEY WILL CALL ME BACK" THEY NEVER CALL.
With this and the MANY other complaints we have received we are posting this warning and we have added Cleopatra's Palace Casino to our Blacklisted Online Casinos page.
UPDATE: This scam casino is no longer online and has been removed from our Blacklist

Rick
CSR