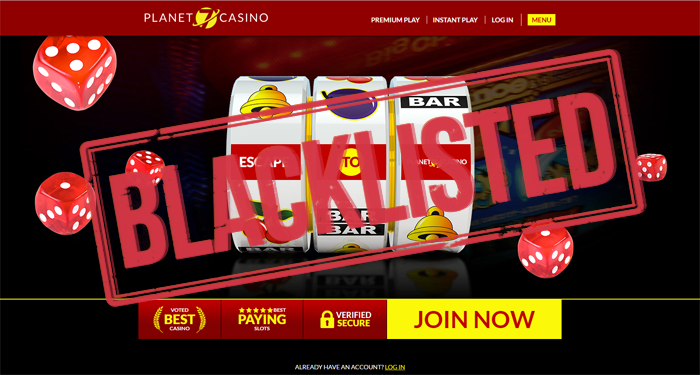 We've now had multiple complaints from Planet 7 Casino (this includes Planet 7 Online or Planet 7 oz) players telling us how they have been scammed out of their winnings.
Planet 7 Casino used to be very good at getting back to us about these payout complaints but in the past year have stopped communicating with us completely.
Their silence tells us that there are most likely serious processing issues going with their payment processors. The biggest problem comes with accepting players deposits under the guise that they will be paid out when they win but this just hasn't been the case with Planet 7 Casino as of late.
Here are two of the most recent complaints about the Planet 7 Casino scam…
Message:
I HAVE 2 WITHDRAWALS THAT WERE APPROVED IN NOVEMBER ONE FOR 1000 AND ONE FOR 2500. BOTH HAVE HAD THERE BONUSES REMOVED THE FIRST WAS MADE ON OCTOBER 30 AND I STILL HAVE NOT RECEIVED A CHECK. PLANET 7 CASINO KEEPS SAYING WATCH FOR THE EMAIL WITH THE TRACKING NUMBER. I HAVE BEEN HEARING THIS FOR THREE WEEKS NOW ITS BEEN 48 DAYS.
THEY ALSO SAID THEY HAVE NO IDEA WHEN THE SECOND CHECK WILL BE SENT IT WAS MANAGER APPROVED IN NOVEMBER ANY HELP YOU CAN GIVE ME WOULD BE APPRECIATED
And this is the follow up from the player…
They are claiming they paid the first withdrawal on November 29th I have never received the tracking number or the check. I was told to send an email to payments and I have done so 3 times asking for an acknowledgement.
Planet 7 keeps stating someone is looking into it but nothing is ever received.
I also sent an email to the manager email asking them to look into it nothing they wont even talk about the second withdrawal
As players can see the casino and it's managers are refusing to even respond to the players requests for payment.
The other email we recently received was this complaint…
Message:
I guess I didn't learn the first time. After waiting over three months to get paid with my first withdrawal planet 7 casino is at it again.
As an incentive they award players seven free spins for mobile users and desktop users when you make a deposit. Sounds pretty good right? Wrong. I have now become unable to collect this bonus because I was called a "consistent winner". Apparently this bonus is only for people who lose and can't win at anything. Doesn't seem fair. I guess the message is they don't want me playing in their online casino.
They still owe me $300 for withdrawal requests since the beginning of August. I wonder if I will ever see those.
Bottom line. DO NOT PLAY AT PLANET 7 CASINO. They only are interested in taking your money and stalling as long as they can to payout. Save yourself the hassle and go somewhere else. I did.
As always, if Planet 7 Casino or any other casino on our Casino Blacklist feels they have been unfairly listed all they have to do is contact us, open up communication, and PAY YOUR PLAYERS!
Other casinos that are in this group to avoid include:
Planet7online (Planet 7 Oz)
SilverOakCasino.com
RoyalAceCasino.com
SlotMadness.com
CaptainJackCasino.com