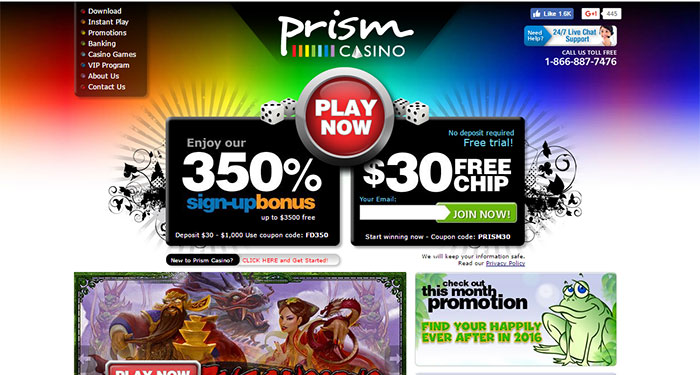 Prism Casino has been operating online under the guise umbrella of the Virtual Casino Group. Recently, we published a post on the unethical practices that players have continued to complain about and yet once again we receive an unfortunate email of a player seeking a payout that is nearly 30 days overdue.
One of the first things before we get to the complaint from the player is the terms and conditions that online casinos provide. If you take a look through the T&C's posted on Prism Casino's page and then take a look at a reputable online casino's T&C's such as Platinum Play's you will notice a HUGE significance in the verbiage.
A big red flag for me when I read through the terms and conditions of Prism Casino is outlined in several paragraphs below:
The casino reserves the right to review transaction records and logs at any time, for any reason whatsoever. If, upon such review, it appears that players are participating in strategies that the casino, in its sole discretion deems to be abusive, the casino reserves the right to revoke the entitlement of such player to the promotion.

Some of our processors pre-approve transactions and then process the transactions in a batch process later. If your transaction happens to be declined at that time of it being processed, and if there are winnings generated from your pre-approved deposit, winnings from that transaction will become void.

When, you receive a payment by check, you must deposit said check to a financial institution within 30 days of receipt. Any delay could result in the check no longer being cashable. In this event the company is not responsible and a reissue of the check payment will not be made.
First off you are letting someone have complete control over your player account when they can log in at any time for any reason they deem necessary and shut down your account.
The paragraph in regards to the processors just doesn't even make sense, if you read the terms and conditions and immediately scratch your head, making the first impression of the words "huh?" come out of your mouth, stop what your doing and don't deposit!
On May 30th the first recorded conversations the player was promised that her transaction would be processed, "My concern that I have now is that prior…there was a date of 5/12 now says 5/30 and I wonder now do I have to wait another 10 days or so? when this has not been my mistake."
The operator addressed the player several time as "My friend" in response to her concerns, personally I don't believe this to be professional but a cheesy tactic to try and draw the player into a false sense of security.
Many times during this first session the player is asked to be put on hold while the operator "checks with the boss" on what he should do and as to what is going on with the players withdrawal.
Over the course of several weeks the player continued to contact customer support requesting her assigned "VIP Host" who was either not there, away from his desk or in a meeting at the time of her contacting Prism Casino.
The operator tells the player while she waits for her withdrawal request she "can always play with pending withdrawals. You can receive the same deposit bonuses, etc just the only thing that cant happen when pending is free chips, comps, insurance etc." "It happens don't sweat it"
If this conversation is starting to sound familiar then you too have had to deal with an online casino that has given you a long list of excuses. Our advice to the player was simply to continue requesting payment in the same cordial manner as she has been doing. Prism Casino has been notorious for citing terms and conditions violations and immediately confiscating player winnings.
While the casino operator has not closed her account or been verbally rude or negative, his words have all been empty promises of a payment that has never been received as per the last recorded conversation dated Jun 13, 2013 7:51:33 PM EST where she was told "The time frame for withdrawals is 7-10 business days to be approved and 10-14 business days to be sent, plus the delivery time, which may vary according to processors limitations."
On May 30th the player was originally promised, "I spoke with the boss and we were going over all the detail's. I can assure you that the withdrawal will not take another 10 days to be approved. What I will ask you for is a couple of days so I can have it processed."
We will keep you updated as to whether this player receives her funds.
Remember to "Play Smart from the Start" and to read the terms and conditions – even as shady as they may be they still DO apply!