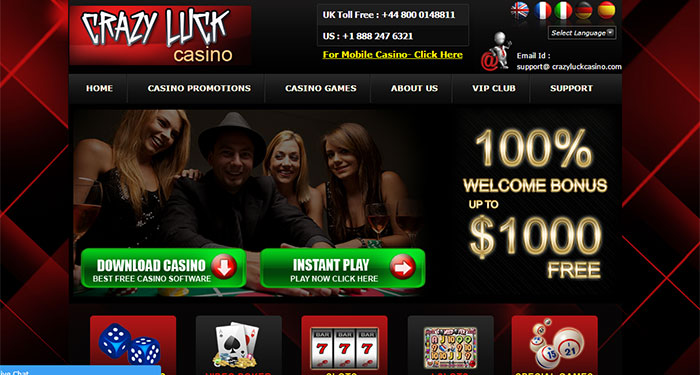 Crazy Luck Casino has now been awarded an official spot on our Online Casino Blacklist…Charged and Found Guilty for Not Paying Out Winnings to Players!
It must be the season of "not paying winnings" as the flux of email complaints regarding online casino's withholding payouts grows in significant numbers. On the 17th December 2014, we received a complaint from a bewildered player regarding a pending withdrawal from crazy luck casino (crazyluckcasino.com). As details are revealed below and in the email from the player, you will understand why the final verdict rendered a worthy spot on our blacklist for Crazy Luck Casino.
Side note: Since the complaint involves an additional casino dispute that is a completely separate issue, we have chosen to block that name from this post and focus on just Crazy Luck Casino.
"I am having trouble with two casinos, XXXX Casino and Crazy Luck Casino. I have pending withdrawals with both and neither one has paid me. With Crazy Luck I requested a $315.00 withdrawal on November 20, 2014. They keep promising payment for "tomorrow" but tomorrow never comes. They do not answer any of emails and keep telling me "tomorrow" on LIVE CHAT. I am at wits end with these guys. With XXXX Casino the story is much the same. I asked for a withdrawal of $425.00 on November 25, 2014. They also ignore my daily emails regarding this matter, have shut down their "LIVE DESK" operation and disconnected their incoming US phone line. As of today, December 17, 2014 I have not gotten any of the $740.00 that these two casinos owe me. Please help me obtain my winnings if you can. THANK YOU!!!!!!"
On the same day as we received the complaint, (Dec. 17 2014) we emailed Crazy Luck Casino and initiated communication to help resolve the pending withdrawal on behalf of the player. As stated in the complaint email the payout request by the player was initiated on November 20th 2014, over a month since the player sent the request to Crazy Luck Casino.
To the casinos credit, they responded to our email the very next day (Dec 18th 2014). To the casinos discredit, they basically lied to us. Crazy Luck told us in the email that the player would be paid within 2 days. It's now been nearly a week since that promise and still no payment from the casino.
Below is the email we received from Crazy Luck Casino assuring us the player receive a payout.
"Hi Rick,
Thank you for informing us. And we are working on this matter and we will pay him within couple of days.
Regards,
Support Team,
Crazy Luck Casino."
As you can see from the email, Crazy Luck Casino's support are few on words. In the interim of waiting to hear back from Crazy Luck Casino, we researched their Terms and Conditions. We could not find an outline on a payout time frame for withdrawals, so we decided to speak with a LIVE CHAT support agent.
A copy of that transcript is below:
Please wait for a site operator to respond.
You are now chatting with 'shane'
you: Hi, How long does it take for the casino to payout after a player requests a withdrawal? I'm not a player but I was just curious in case I sign up.
you: Hello? Anyone there?
shane: it will take 7 to 8 days..
shane: for first withdraw
you: Oh okay so if I win and request a payout I should have the money in 7 to 8 days?
shane: But from the second withdraw if you want your money (withdraw) on your card then it will take 48 hours.. or if you want in your bank account then it will take…10 days
shane: yes
you: Okay great. Thanks for your help 🙂
shane: You are welcome
The casino support assured me that on the first withdrawal it would only take 7 to 8 days. That's a lot less than the 38 days this player has been patiently waiting. Since then we have revisited Crazy Luck Casino and found the following terms and conditions:
Withdrawal Condition: Players need to send the security documents within 10 working days after putting a withdrawal request. In case of failure , the casino has full rights to reverse the withdrawal to the player account with us. Player could then again request for the withdrawal and send the documents for approval. For withdrawal we need the following documents for verification : One government approved ID card, utility bill (not more than 2 months older), scan copy of your credit card (front and back both which you are using for deposit with us) and Authorization form . For any kind of assistance just contact us on live help or call on the toll free number provided on website.
As stated previously in other casino complaints we do our best to resolve issues so that we do not have to resort to producing these scam reports as it isn't something we take lightly. We also are very selective in the online casino's we add to our casino blacklist. But we feel Crazy Luck Casino is not an exception to the selection process since they have blatantly lied, cheated and stole from the player. This is not their first unresponsive offense to a player complaint, a quick search will reveal their wrong doings dating back from 2012 on various reputable player advocates.
We understand that unfortunately players fall through the cracks from time to time. However, once the casino's are notified of these complaints, for the most part they will resolve these matters quickly. The fact that on this particular issue, Crazy Luck Casino was notified and promised to pay within two days. The clear deciding factor for blacklisting Crazy Luck Casino is for the simple reason that 38 days after the initial request for a payout of $315, the player has been given the run around without seeing a dime.
We strongly urge all players to avoid this online casino. Crazy Luck Casino has been notified of this scam report and still has the opportunity to right their wrong with the player. If this happens we will update this report as "Resolved" and remove Crazy Luck Casino from our Blacklist.
Rick Norris
CS Report