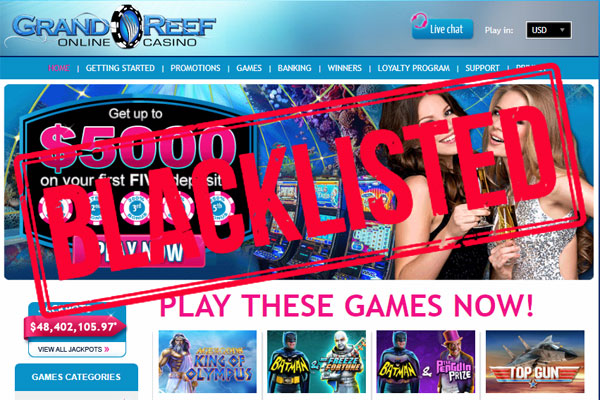 Grand Reef Casino and their two sister casinos (Indio Casino and African Palace) have now been blacklisted. They are refusing to answer player complaints about non payouts and no longer respond to our emails.
Their website is showing that Grand Reef Casino is owned and operated by Rand Logic Gaming NV, that is incorporated, licensed, and regulated by the Government of Curacao.
Other watchdog websites around the internet have blacklisted Grand Reef Casino for non payouts to players among other issues.
Below is the latest complaint we received that has gone unanswered by Grand Reef.
Complaint:
I am very concerned. I have been a player at grand reef casino for many years and I am a VIP. A couple of weeks ago none of the games worked and the online customer support was down. Anytime i tried to play a game it said the servers were down. I have tried emailing every contact support given by Grand Reef and after a week received one reply saying they were changing severs. I asked what happens to my current credit of over $94 and when will my pending of withdrawal of $2600 be paid out to me and have since received no reply. I can log into the casino but that is all i can do. They said they were leaving playtech do you have any information at all about this casino please I just want my money back.