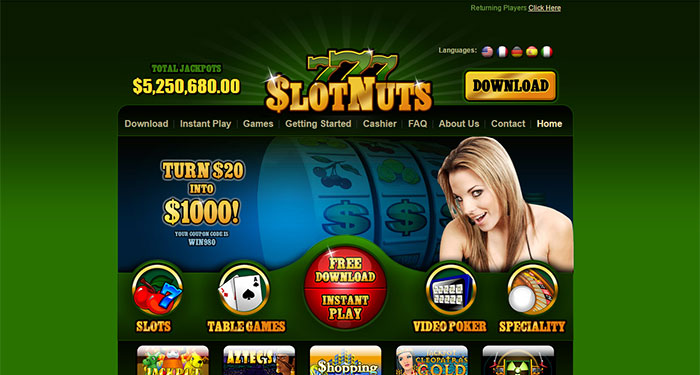 Slot Nuts Casino is a Scam! Do Not Play at this Online Casino.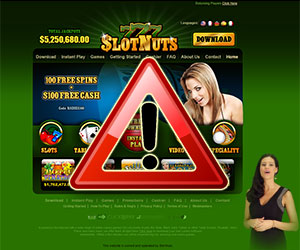 Do not play at Slotnuts.com or any of their other scamming sister online casinos below. This group of casinos in on our Blacklisted Casinos List:
Mightyslots.com
Realvegasonline.com
99slotmachines.com
Plentyjackpots.com
Slotnuts.com
SlotsInferno.com
Slotsluv.com
They are part of the Curgam Malta group of scam casinos and if you play there you will get scammed out of your hard earned money and never see a dime. It's happened to thousands of people so don't let it happen to you!
We get dozens of emails all the time from people telling us how Slot Nuts scammed them out of money. Once you deposit money in any of the Curgam Malta casinos you will not see any returns. If you win money they will only tell you lies after lies about how they are working on getting you paid. They never work on getting players paid. SlotNuts.com and their sister casinos only work on scamming players out of their money. This is a recent email we received about Slot Nuts casino scam.
Message:
i made a withdrawal on Jan 8th 2015 in the amount of 2,800.00 i have called them over 50 times and cannot get an answer, email,or phone call from them. All i hear is no one is in accounts and they,ll get back to me. i heard money was at bank and so many stories. its now Sept 15th 8 1/2 months ago i made withdrawal. they took alot of my money and now i cannot get any replies.
You've been been warned!
Always choose safe, regulated, and licensed online casinos. Unlike other websites that list thousands of untrustworthy only casinos for players to get ripped off from, we here at Casino Players Report only list approved, regulated and licensed casinos to assure our website visitors get their payouts fast and secure, every single time.