Realtime Gaming (RTG) is a well-established and reputable software provider in the online casino industry. With over two decades of experience, RTG has built a strong reputation for delivering high-quality gaming solutions. They offer a diverse range of casino games, including slots, table games, video poker, and specialty games, catering to a wide variety of player preferences. RTG's games are known for their user-friendly interfaces, immersive graphics, innovative features, and smooth gameplay, ensuring an enjoyable and entertaining experience for players.
---
Slot Games and More

One of the key features of Realtime Gaming is their focus on producing games that can be played in, you guessed it… Real-Time. This means that players can enjoy a seamless and uninterrupted gaming experience, without any lag or delays. The company's software is designed to work on a variety of devices, including desktop computers, mobile phones, and tablets.
RTG offers a wide selection of games that cater to various preferences and styles of play. Here are some highlights of the types of games you can expect from RTG:
Slot Games:
RTG provides an extensive collection of slot games, including classic 3-reel slots, video slots, and progressive jackpot slots. Their slots feature diverse themes, captivating graphics, and engaging bonus features, such as free spins, multipliers, and interactive bonus rounds.
Table Games:
RTG offers a range of popular table games, including blackjack, roulette, baccarat, craps, and poker variations. These games are designed to replicate the authentic casino experience, with smooth gameplay, realistic graphics, and intuitive interfaces.
Video Poker:
RTG is renowned for its video poker games, which combine the thrill of poker with the convenience of electronic gaming. Players can enjoy various video poker variations, such as Jacks or Better, Deuces Wild, Joker Poker, and more, with adjustable bet sizes and strategic gameplay.
Specialty Games:
RTG also features a selection of specialty games that provide unique and entertaining experiences. These may include scratch cards, keno, bingo, and other arcade-style games, adding diversity to their game library.
Progressive Jackpots:
RTG's progressive jackpot games are particularly popular, offering the chance to win life-changing sums of money. These jackpot prizes grow progressively as players wager on the game, with the potential for massive payouts that can reach into the millions.
RTG games are known for their user-friendly interfaces, seamless gameplay, and high-quality graphics. The software provider consistently releases new games to keep their library fresh and exciting, ensuring that players always have something new to explore.
Some of the company's most popular titles include "Aztec's Millions," "Cleopatra's Gold," and "Cash Bandits." These games feature high-quality graphics, smooth animations, and exciting sound effects. Try out these Realtime Gaming slots along with many more on our free play slots page.
---
Security and Transparency

In addition to their impressive game library, RTG is also known for its advanced security features. The company uses state-of-the-art encryption technology to protect players' personal and financial information, ensuring that your data is safe and secure at all times.
SpinLogic is a new online casino company that has partnered with Realtime Gaming to offer their players access to the company's extensive library of games. Spinlogic also features a user-friendly interface, fast and secure payment options, and around-the-clock customer support.
In summary, Realtime Gaming is a software provider that specializes in creating high-quality online casino games that can be played in, yes you guessed it… Real-Time. Their impressive game library, advanced security features, and commitment to providing a seamless gaming experience have made it a popular choice among online casino players around the world. And with its partnership with SpinLogic, players can now enjoy RTG's games and more at any of their top-notch online casinos.
Realtime Gaming is also known for its commitment to fair play and transparency. The company's games are audited by independent testing agencies to ensure that they are fair and random. This means that players can trust that they have a fair chance of winning when playing RTG's games.
---
Realtime Gaming Features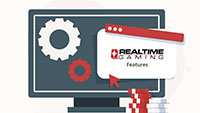 Another key feature of Realtime Gaming is its ability to offer customizable gaming solutions to its clients. This means that online casinos that use RTG's software can tailor the gaming experience to meet the needs of their players. For example, casinos can choose which games to offer, set their own betting limits, and even create their own branded games.
Realtime Gaming is also known for its progressive jackpot slots, which offer players the chance to win life-changing sums of money. Some of RTG's most popular progressive jackpot slots include "Megasaur" and "Spirit of the Inca."
Finally, it's worth noting that Realtime Gaming is licensed and regulated by several reputable gaming authorities, including the Malta Gaming Authority and the UK Gambling Commission. This means that players can trust that RTG operates in a fair and transparent manner, and that its games are subject to rigorous testing and regulation.
In conclusion, Realtime Gaming is a leading software provider in the online casino industry, known for its high-quality games, advanced security features, and commitment to fair play. With its extensive game library, customizable gaming solutions, and progressive jackpot slots, RTG continues to be a popular choice among both players and online casinos.
Although there are many online casinos that use Realtime Gaming software, not all of those can be trustworthy. In fact some of those online casinos are flat out scammers. It's very import when looking for a casino to play at that you do your research before depositing.
---