Unfortunately there have been an insane amount of instances where people have been scammed by online casinos. It's definitely not a new thing. It's been happening since the very first casinos came online back in the late 90's and to be honest, I don't think they will ever go away. Some of the casinos have obviously came and went but their are always more crooks to take their place. This guide will show you how to avoid online casino scams.
Although their are quite a few online gambling sites that prefer to cheat their players out of their hard earned money, there are also quite a lot of honest online casinos that would prefer to payout their players in hopes they will stick around and continue to play.
My objective in this article is to simply (and briefly) guide people that are looking for a safe and trustworthy online casino to play at. And remember to always check this sites Online Casino Blacklist for current updates on the casinos that you should avoid.
It's not always about what to look for in a scam casino, but more importantly what to look for in a trusted one. Below are some great examples we've put together to help players find a honest, safe, and secure online casino. And remember…
Play Smart From the Start!
Research The Casino Before Depositing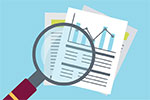 I know, this advice sounds so obvious but it always amazes me how many people file a complaint with us about a rogue online casino scamming them when all they had to do was a simple Google search. Taking a minute or two out of your life to do a search could quite possibly save you a lifetime of heartache when you find the casino you just won at is now cheating you out of your winnings.
Researching doesn't just mean typing the casino's name in the search engine. It's not that easy but it is fairly simple if you know what to type. Examples would be "casinobogus.com reviews" or "casinocrappy.com scam" "casinoripoff.com complaints" etc. You can even check out other reviewer websites for "online casino blacklists" like ours here.
We have links on the scam casinos to give our website visitors a better understanding of what the casino did to land on our list. We do not take adding a casino on our blacklist lightly. If a casino is on our list it's most likely from multiple complaints we've had over the years that the casino either refuses to resolve or ignores the complaint altogether.
You can check out all our scam and complaint posts or simply click on the upper right search icon to see if your casino has had any complaints in the past and if they were resolved or not.
Researching online casinos before depositing using the information provided above will help you have the peace of mind and confidence that you are playing at a trustworthy and safe casino that will actually payout your money when it's time to collect your winnings.
Read The Casino's Terms & Conditions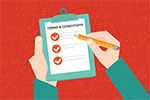 Reading the Terms and Conditions is an absolute must before signing up and depositing at ALL online casinos.
I hear it all the time and frankly it's a very sad endless river of sorrow. "The casino cheated me out of my winnings". Well no, actually you broke the T&C's. "It's not fair". Maybe not, but players unfortunately don't make up the rules, the casinos do. I'm not trying to be callous here. I know how upsetting it is to lose money on a win from something that could've been easily avoided. I've been there.
If you're looking to avoid online casino scams YOU MUST READ THE BONUS TERMS! This is of course if you have accepted and are playing a welcome bonus or any other bonus at the casino which most people tend to do. If you aren't accepting a bonus from the casino (our recommendation) or don't plan on it, you can skip to the next section. But for the rest of you that find it too tempting to pass up, this section is for you.
Reading and understanding a casinos bonus terms is crucial to a successful withdrawal of your winnings. We get countless complaints every year from players that have won significant amounts of money only to find out they've unwittingly broke one or more of the casinos terms.
Some casinos (both good and bad casinos) don't always slap their bonus terms in your face. The unfortunate fact is that some casinos are betting on you not reading and understanding the casino bonus terms. If you break the rules you forfeit your winnings. Simple as that.
One of the most important terms to look for is the betting limit per bet. In our experience this term is the one that gets most players. If the casino says the max bet is $10 per spin (or play) and you bet $10.50 you're out of any winnings you accumulated during the bonus play wagering. Even if you only bet over the limit one time you will forfeit all your winnings so it's very import to know what the limit is before you start playing.
Let's take a quick look at an online casino that we feel gets it right when it comes to being bonus transparent to their players. Slots.lv Casino.
Click on the below PLAY button and look at the bottom of the page. Slots.lv Casino has clearly added the terms and conditions at the bottom of the page. These include the maximum deposit for the bonus. The Max Bet ($10). Max Wagering Requirement (35x). And the games you are allowed to play with your welcome bonus. Additionally the terms give a clear list of countries that are not allowed to participate in the welcome bonus. You won't find this kind of transparency at every online casino.
Slots.lv Casino
$7,500 Crypto

Welcome Bonus Package

Wagering Requirements are 35x (Bonus+Deposit)

There are other terms that are notable for players when accepting a bonus and those are the wagering requirements before you can cashout. These are typically 25x, 35x or 40x your deposit + bonus. in other words if you deposit $50 and you get a bonus of $50 from the casino your wagering requirement would be $50x$50=$100 then $100×30=$3000. $3000 is the number you would need to bet to be able to cashout.
The number might seem kind of high but it's not that bad. You'll be able to use the winnings from the bonus money to make your requirement wagers, and if you make them wisely you can usually have some winnings left over in the end.
Further Advice Avoiding Online Casino Scams
Online Casino Payment Options:
Check out what payment options the casino offers. Reputable online casinos offer secure payment methods, such as credit cards (Visa, MasterCard, AMEX etc.), e-wallets like Neteller, Skrill, ecoPayz etc. Cryptocurrencies like Bitcoin/litecoin etc and Bank wire transfers.

Licensing:
Look for licensing and regulation. Check if the online casino is licensed by a reputable authority and regulated by a governing body and adheres to fair gaming practices. Most U.S friendly casinos that use RTG (SpinLogic) as their gaming providers have a license in Curacao where European online casinos are usually licensed in Malta with a UK Gambling Authority regulating.
Keep Records:
Another way to avoid online casino scams is to keep records of all transactions. These would include deposits, withdrawals, and bonuses, to help protect yourself in case of any disputes.
If you find yourself needing to file an online casino complaint, first contact the casino and if you can't find a resolution with them you can file a complaint with up by using our online casino complaint form. Or by searching for any number of watchdog websites that offer casino complaint services.
Security:
Nobody we know likes to throw away their hard earned money. And that bring us to our next topic; Security.
Online casino security is of utmost importance, as it involves the protection of players' sensitive information and their funds. Online casinos use various measures to ensure that their systems are secure and their players' information is safe. Here are some common security measures that online casinos use:
Always use secure connections and avoid public Wi-Fi when accessing online casinos. In other words, don't play at the library on a public computer or anywhere else for that matter. If you are using your mobile device on public Wi-Fi make sure that your phones tethering or hotspot is turned off so no one can connect to your device. And always make sure the casino website uses SSL encryption to protect your personal and financial information.

Encryption: Online casinos use encryption to protect sensitive data such as credit card numbers, passwords, and personal information. Encryption makes it difficult for hackers to intercept and read data being transmitted between the player's computer and the casino's server.
Firewall: A firewall is a security system that monitors and controls incoming and outgoing network traffic based on predetermined security rules. Online casinos use firewalls to prevent unauthorized access to their servers.
Two-factor authentication: Two-factor authentication (2FA) adds an extra layer of security to the login process. Online casinos may use 2FA to require players to enter a verification code sent to their mobile phone in addition to their username and password.
Secure payment systems: Online casinos use secure payment systems to protect players' financial information. Payment processors such as PayPal and Skrill use their own security measures to ensure that transactions are secure.
Random number generator: The random number generator (RNG) is used in online casino games to ensure that the outcome of each game is fair and random. The RNG is audited regularly by third-party organizations to ensure that it is functioning correctly.
Licensing and regulation: Online casinos must be licensed and regulated by a recognized authority to ensure that they operate fairly and transparently. Licensing and regulation bodies require online casinos to meet certain standards of security and fairness.
Online casino security is a complex issue that involves multiple layers of protection. Online casinos use encryption, firewalls, 2FA, secure payment systems, RNGs, and licensing and regulation to ensure that their systems are secure and their players' information is safe.
And the final thing to check out before depositing is the casinos customer service. Look to see if the online casino offers multiple ways to contact customer support in case you have a question or concern. These would include email, phone, or live chat.
Give their live chat a tryout before signing up and depositing. Just click the chat window to see how long it take them to respond to a standard question. This also helps you to know if the support team is knowledgeable about the casino.
Conclusion:
With all the advice given above, you should now have all the tools and the confidence when looking to sign-up and deposit at an online casino. And of course we are always here to answer any questions you may have about any particular casino. Just give us a shout on our contact form
Best of luck!
Rick Norris
Casino Players Report
Trusted Online Casinos Without Doing the Research
Listed below are just a few of our approved and trusted online casinos. We have researched these casino extensively and found them to be some of the best casinos that won't scam you out of your hard-earned money. Let's face it, researching trusted casinos is a necessary effort that can quickly become very time consuming. That's why we have done it for you. We've helped players for over two decades avoid online casino scams and we know the good ones from the bad ones and the outright ugly.
For all the safe, trustworthy, and absolute honest casinos, check out our complete online casino listings and reviews.
Desert Nights Casino
250% Welcome Bonus up to

$2,550
Max Bet per Spin $6.50 – Wagering Requirement 35x
Big Spin Casino
200% Sign-Up Bonus

up to $1,000
Wagering Requirement 40x – Minimum Deposit $45
Everygame Poker
Deposit for

25 Free Spins
Multiple Free Spins with every Deposit!

Slots Ninja Casino
350% 4x Welcome Bonus +

120 FREE SPINS!



Wagering requirements: 40x – Max Bet Per Spin $10

Sloto'Cash Casino
$7,777 in Free Welcome Bonuses + 

300 Free Spins
Wagering: 25x – No Max Cashout – Minimum Deposit: $20