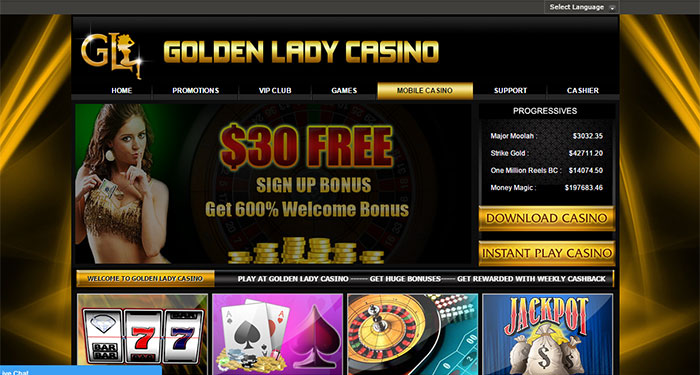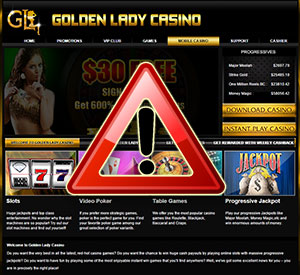 We are warning all our website visitors to avoid playing at GoldenLadyCasino.com for what we view as bonus fraud. Golden Lady Casino is offering exclusive bonuses to players where after the player signs up and makes a deposit they receive the extra bonus. The only problem is (at least in this case) the casinos bonus is a 24 hour bonus (in which Golden Lady Casino does not divulge the condition to the player). What's even more shady is that if you fail to play the bonus with the 13x wagering requirement within the 24 hour period the casino robs the player of their entire account balance.
Below is a complaint sent to us via email from a Golden Lady Casino player that is claiming bonus fraud by the Casino:
Message:
Hi,

I am asking your help : I think I was cheated from Golden Lady Casino,this is the story :
I put a deposit of 200 euro, they gave me 921% bonus, a wagering of 13x, no max cashout; this was 25 November in the evening. I started play and raised my starting balance from 2042 to 4250 /more or less).
When I went in chat yesterday evening (about 24 hours after my deposit) to check my wagering situation, as I was thinking I passed it, the woman in chat said I had no bonus going on…then when I clicked on cashier page and try to make a withdraw through Neteller, suddenly I saw my balance dropped down to 0.
I tried in every way to understand this madness…no way to know what happened from chat;
I sent an email at once, asking explanations for this incredible thing, after a while they answered me that I played a 24 hours bonus, so i were in chat in the moment the bonus expired with all my money…
It is a clear cheat, I played for months with this "border line" Casino, never played with timed bonus, the Manager MrAlex Norman, who was in chat to accord me the bonus, and who pretend to be my friend… never talked of this, and in addition to this I had already written to support in the morning of 26 November to ask about wagering (because with this Casino you always have an hard life to know your situation) ad he replied to me after few minutes "Contact me in chat after 7,00 pm" : surely it's either one thing or the other :
-) or he is an incompetent, as he gave me a timed bonus without knowing it and telling me about this (but I repeat i NEVER played this kind of bonus) anyway he is a Manager and must solve this…
.) or he is a cheater, a malicious, knowing that he would reset my balance and show me that incredible motive, and I want justice, I want my balance restored…

Now I am sending mail every hour trying to receive an answer from this Alex or from Casino: no reply.
I promised them that I will write an email every hour for next 4250 days to get what they have stolen.

Please help me
Thank you
Luca
We have tried to contact the casino regarding the bonus fraud claim, however our efforts have gone unanswered by Golden Lady Casino. Per our policy; if we contact a casino about possible scams, frauds or disputes and do not hear back from them, we have no choice but to assume that the player is correct about the fraudulent activity. We will then proceed in bringing awareness of the issue via a scam report on the players behalf as is the case with Golden Lady Casino.
We are offering Golden Lady Casino a chance with this open letter to contact us so that we may offer their side of the story but until then we again warn our website visitors to avoid Golden Lady Casino for suspected bonus fraud.
CS Report