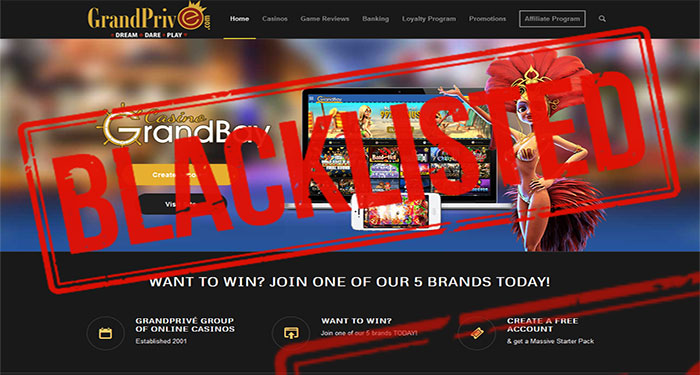 Casino Players Report has Blacklisted ALL Grand Prive Casinos for unethical business practices and flat out thievery of commissions earned by affiliates world wide.
Here's what happened. Websites that promoted Grand Prive casinos were under contract with Grand Prive that basically stated if a website promotes their (Grand Prive) casinos and brings in a new depositing player that the new players are theirs for life.
Well now it turns out that Grand Prive is closing their doors and leaving affiliates in the cold without their lifetime earnings being honored. And to add insult to injury all the Grand Prive casinos are keeping their doors open. We are exposing this for what it is… flat out thievery.
If Grand Prive will do this to their long time partners they certainly won't hesitate to steal from their players.
Avoid ALL Grand Prive Casinos listed below:
Belle Vegas Online
Casino Grand Bay
Grand Bay Poker
Lake Palace Casino
Jupiter Club Casino
Road House Reels Casino
Fortune Junction Casino
Jackpot Wheel Casino