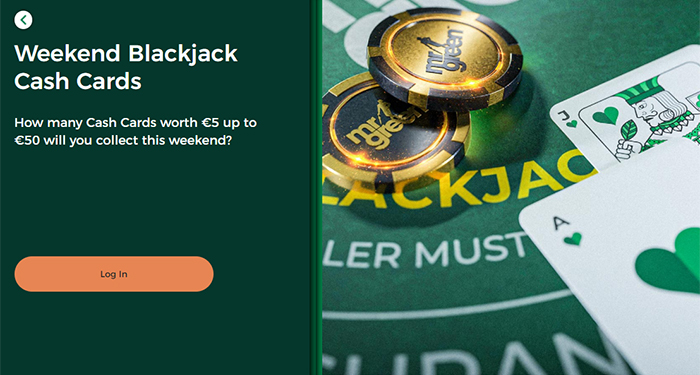 Let's play some Blackjack, Mr Green style! Pull up a seat and Win Cash with the Weekend Blackjack Cash Cards
When you join the live blackjack tables from 7pm through 0:59am every Friday, Saturday and Sunday at Mr Green, you can play for a chance to score random cash cards worth $5 up to $50.
The best part about this promotion? Receiving real cash rewards for your play. There is no limit on how many cash cards you can win, keep playing, keep collecting and cashing in those cash card prizes!
How do you win a cash card? Just play any of the qualifying live blackjack tables. This includes; Vegas Blackjack H, Vegas Blackjack A, Vegas Blackjack B, Vegas Blackjack C, Vegas Blackjack E and Vegas Blackjack F.
PROMOTIONAL TERMS:
Promotion valid from 19:00 to 00:59 CEST every Friday, Saturday and Sunday. Please note that the ending time of each day's play finishes in the early hours of the following day.
Qualifying LIVE Blackjack tables include: Vegas Blackjack A, Vegas Blackjack B, Vegas Blackjack C, Vegas Blackjack E, Vegas Blackjack F and Vegas Blackjack H.
Blackjack Cash Cards are randomly dropped into selected shoes during the promotion.
Blackjack Cash Cards will be a random cash value of: : €5 | €10 | €15 | €20 | €25 | €30 | €40 | €50.
Winning Cash Card Prizes are credited to accounts the following Monday no later than 13:00 CEST.
Betting Behind is excluded from participation.
Players cannot occupy more than 2 seats piier table. Players doing so may disqualify themselves from receiving their cash card prize/s.
Participating players MUST have an active bet at the table to qualify for a Cash Card prize.