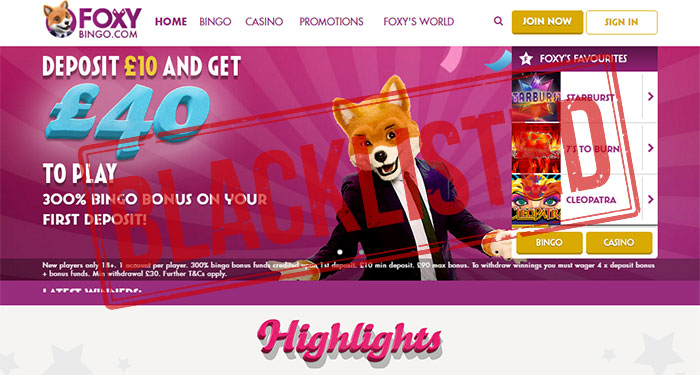 Foxy Bingo and Foxy Casino have now been added to our Blacklist.
In recent weeks it has come to light that the owners of Foxy "Cashcade Limited" have closed their affiliate program for both their casino and bingo properties, namely Foxy Bingo and Foxy Casino.
The Cashcade affiliate program had previously made an agreement with affiliates (we are not one of them) that if they brought in new real money players for both Foxy Bingo and Foxy Casino they would receive a percentage of the profits for the life of said players.
Cashcade DID honor their agreement up until the time they decided to close Cashcade and re-open later under a different name. Opening up under a different name or "brand" is certainly not a problem and it happens all the time in this business. However, the issue with opening a new program is they are NOT bringing along the affiliates they previously promised lifetime player agreements with and that folks is called theft.
Right now the industry of affiliates are turning up the heat and taking a stand against this rather dishonest turn of events in the hopes that the formerly known Cashcade will reverse this terrible decision.
At this time we have no choice but to add Foxy Bingo/Foxy Casino to our Online Casino Blacklist until further notice.
If they are willing to steal from hard working webmasters and affiliates we are sure they would have no problem scamming players as well.