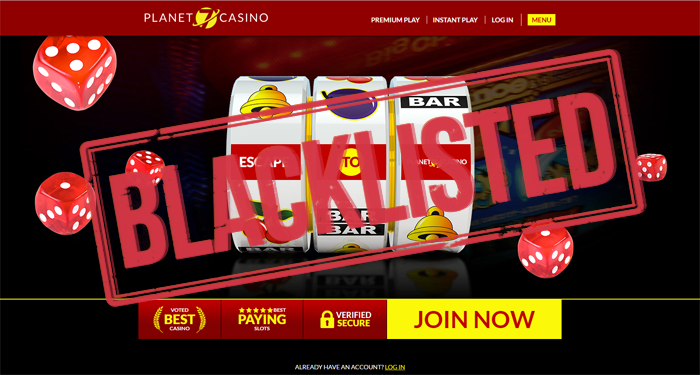 Planet 7 Casino Payout Complaint– Resolved
Planet 7 Casino is now Blacklisted – Read Reasons Why
We received the below complaint from a planet 7 casino player…
Message:
I hate to have to do this but Ive been playing at Planet 7 Casino for a while, won a little money and made a withdraw over a month and a half ago. After I had made the withdraw I waited for 2 weeks and heard nothing from them until I emailed them asking why I never received an email saying I was approved or that my winning have been mailed. After that they finally emailed me back on May 23rd saying that I was approved for $613 but I need to send them signed documentation (although I had sent it in prior to making my withdraw) before I can get my winnings. So I sent it in again then they said my winnings would be sent to me in 10 to 20 business days. Well, it has been well over 10 to 20 business days since then and I still have not received my winnings or even so much as gotten a tracking number like I was told would be emailed to me.
Yet I still gets sales calls, text messages and emails from them asking me to spend more money at their casino… well, I cannot and will not spend another dime with them until I receive my winnings. I cannot willingly bet my hard earned money knowing that they refuse to pay their winners.
It's not right that when I deposit money, I get my credits and am able to start betting immediately… yet when its the other way around, when I'm pulling money out, I have to jump to through hoops to get what I'm due… It's just wrong. I feel cheated and scammed.
Anyway, I'd love to start playing again as I had a great time but I cannot bring myself to due so until I receive my winnings.
I would really appreciate it if you guys can give some help with me this problem. Thank you for your time.
We contacted Planet 7 Casino and they explained to us that they are experiencing some payout delays. After contacting the casino the player was paid his winnings…
Hi Rick,
I just received my payment! Wow, I sicked you guys on them then they paid right away hahaha! Thank you so much for all your help! Can you provide me with a link so I can leave a testimonial on your website? Its the least I can do. Thanks again!