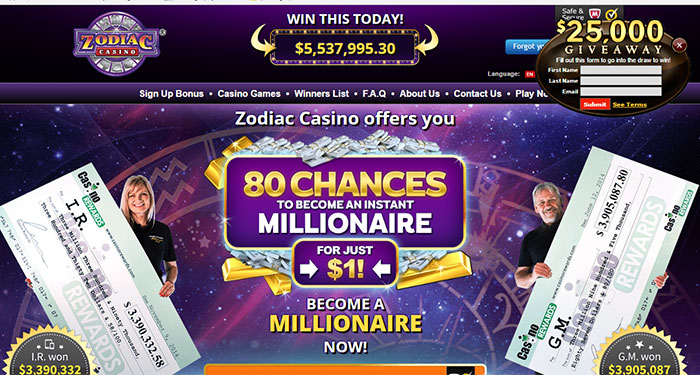 Zodiac Casino Dispute – Resolved
Player came to us asking for help saying that she was locked out of her account by Zodiac Casino. The casino told her she had broken their terms and conditions for having two separate accounts at the casino. This allegation was denied by the player.
Players complaint…
Message:
Hi my name is jxxxxxxx i believe that zodiac casino is a scam and scamming me out of my winning I've done my research and they have done this to countless of other people as well. they had a promotion of if i spend a dollar i could get 80 free games which adds up to 20 credit. i played and got up to 400 and i still couldnt cash out till i got my 20 credit down to zero. so i continued to play and i checked my bank at 238.00 and i could cash out so i played till i got to 200. and i tried cashing out it said it would take to days to process which was fine with me then i get an email from rhy from risk management saying they were confiscating my winning  because i had two different accounts or was using a computer. i have written to them stating i did not break any of there terms or conditions now they will not write back. they also locked me out of my account. i just want my winning and a apology from this company for stealing my winnings i have done nothing to deserve this. i believe there are doing this to many people and are trying to get away with this they need to be stopped
We contacted Zodiac Casino and asked for proof that the player had in fact opened two separate account and this was the casino's response…
Hey Rick
This is the last email that was sent to the player (today), including the other account number which was used:
Hello Jxxxxxxx,
Sorry but as per my previous email, we can clearly see multiple Casino accounts have been created from the same location.
In particular, we can see you already received the signup bonus at Zodiac Casino (HZCRM0190884752) on 15th January 2016.
Please be aware, the Casinos terms and conditions do not permit more than one Real-player account per person, household, family, residential address, email address, credit card number, or shared computer environment such as a library, workplace, fraternity, university or school.
The decision is final. Due to this breach of the terms and conditions, the account has been locked and the winnings are void.
Thank you and kind regards,
Rxxxx
Casino Risk Management
Also I should mention the two accounts both have the same details on them. Name, address, email address etc. Both accounts also played using the same IP address and purchased using the same Visa card. All the details on every account she holds with us have been entered the same way too, so it's clear that these accounts were all created by her.
Let me know if you have any further questions.
Cheers
Kindest Regards
Casino Rewards Team
The fraud dept. at Casino Rewards is very efficient in what they do. If you have two account you most likely will get found out. We obviously sided with the casino on this complaint and it is now closed in favor of Zodiac Casino.