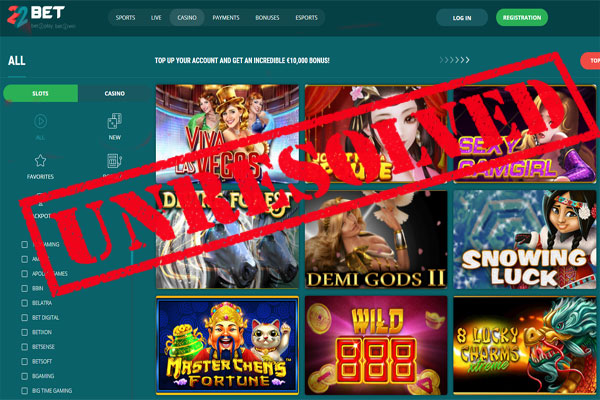 We received a complaint about 22bet.com from a player that had won a substantial amount of money (over $21k) only to find out later from the casino that the fraud dept. had detected multiple accounts from a single IP address (or one household). There is another post we wrote on this same issue here… 
Two Accounts One Household. Just Don't Do It!!!
This actually the largest percentage of complaints we get. And most of the time the players have no idea about the other accounts. It might be that they don't remember opening another account years ago or that someone else visited their home or business and opened an account without their knowledge, but 99.9% of the time the players vehemently deny the accusation of multiple accounts.
Unfortunately, it is the player's word against the casinos fraud dept. At this point their is nothing we can do. Kind of a stalemate if you will.
22bet.com did respond to the complaint with the reason why the player's account has been closed, it shows a willingness to acknowledge the issue so in this case the complaint is now closed but still unresolved. The player is denying these accusations.
If a casinos chooses to not respond to a players complaint they will be issued a warning and if we do not hear from them after a reasonable amount of time we will write up a Scam Report on the casino to let our website visitors know to avoid this particular online casino.
Below is the player complaint and the reply from 22bet.com
Complaint:
I have an account with 22Bet.com
The e-mail addresses that I have previously been in contact with 22Bet.com on and that you are best to contact them on are [email protected] and [email protected]
I registered with 22Bet.com on 12/06/2018 and I made two 200.00 deposits the same day. I then placed a total of over 750 bets with 22Bet.com over the next 6 weeks. By 13/07/2018 I had ran my balance up to 21,137.74 and I had requested a withdrawal of my full balance, and I was asked for documents. All of which I sent to them. And then after sending them all of the required documents, they e-mailed me on 25/07/2018 saying they are closing my account and confiscating my winnings. They only refunded my deposits, bringing my balance from 21,137.74 down to 400.00. This is the e-mail they sent to me:
"Good Day. We are bringing to your notice that we made a decision to stop any collaboration with you (closing your gaming account) on the basis of General Terms and Conditions of the Bookmaker Company:
Should the bettor commit fraud in respect to the bookmaker (such as the registration of multiple accounts, the use of automated betting software, arbitrage betting, if the betting account is not used for betting, the improper use of loyalty schemes, etc.), the bookmaker reserves the right to stop such fraudulent actions by:
-bet cancellation;
-closure of the customer s account with the balance being refunded; -filing a claim to a law-enforcement agency.
Effective as of 1 January 2011.The decision was made after rigorous investigation of the case by The Security Department.
We ask you not to create gaming accounts with The Company. Please, notice, that all the accounts created again in the system will be closed,bets will be annulled, deposited funds will be in hold and used on the expenses related with the investigation and blocking.
Due to the fact that your actions have been recognized as flagrant violation of The T&Cs of our Company, the decision of stopping any cooperation with you was final and not subject to further appeal.
All further questions concerning the case of blocking from your side will be ignored.
You can withdraw the deposited sum only."
This is not fair and it is completely and utterly unacceptable and needs to be resolved. I've not done anything mentioned in their vague copy and paste terms and conditions crap e-mail. And I've e-mailed them subsequently asking exactly what they are trying to say I've done wrong and they haven't replied at all, which says it all really.
I haven't done anything wrong and that's it. This is scam and fraud behavior from 22Bet.com and they need to pay me my winnings. I've not done anything wrong whatsoever. I simply won some money fairly and there is absolutely no reason, grounds or justification whatsoever for them to confiscate my winnings.
So can you contact 22Bet.com to get this resolved and get 22Bet.com to pay me my winnings in full immediately.
22bet.com response:
Our company has decided to cease partnership with this customer. The decision was made after a careful investigation of the matter by our Security Department.
The investigation has concluded and we have evidence to prove that the customer have created multiple accounts. This decision is based on the official Terms and Conditions:
Each registered customer may have only one account. Regarding registration on the website this rule applies to one household, one address, one email address, one credit/debit card or one IP-address.
No registered customer may be re-registered as a new customer (under a new name, with a new email address, etc.). Should re-registration (inter alias under a new name), provision of someone else's documents, or use of invalid or false documents (including documents altered by means of image processing software) be proved, the administration reserves the right to void any bets placed from such an account. If the Customer refuses to undergo verification, the administration reserves the right to void his bets.