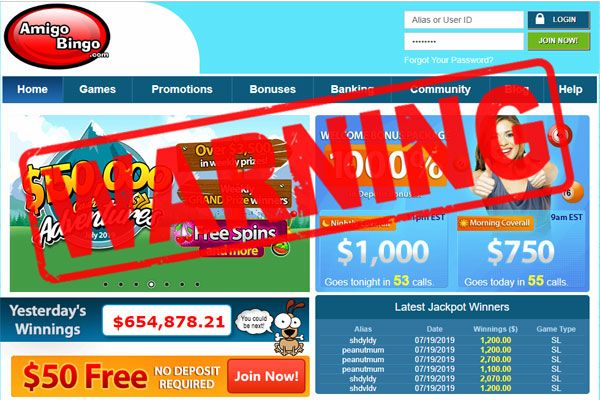 We received a player payout complaint about Amigo Bingo. We tried to contact Amigo Bingo about this complaint several times and we have not heard back from them. If you have an issue with Amigo Bingo we will not be able to help. Best avoid this casino.
Player complaint:
There are several issues in this complaint. any and all help will be much appreciated. May 12, 2019 I was playing at amigo bingo and logged in to a 25 cent Parlay game "get cracking." I selected 6 lines and wagered 4 coins per line for a $6.00 bet. I clicked spin, and landed on a full screen of wild symbols. 5 reels across and 3 rows down. The game took my wager but paid nothing. Surely I thought a full screen of wild symbols has to pay something but chat was offline to help so the only thing i knew to do was take screen shots of game.
When taking screen shots I noticed the letters "NaN" in my cash balance now. In mathematical terms "NaN" means unlear, undetermined amount, etc. Thinking this was a huge JP, I didnt think much of it and sent the screen shots via email for Charlotte to look at. She said she would forward screen shots to tech and get back to me.
Seems to me a couple weeks go by where she finally asks if i see the letters in the balance area? I said yes? She said she didnt think it was valid? I was thinking to myself why is she guessing when there is a game ID for someone to research? At that point I asked if she would forward screen shots to Parlay and Charlotte said she already did and was waiting to hear from them.
Mean time I get a email from "Rob" at thebingoaffilates. He says he will send screen shots to Parlay and see what they say. Rob sends me another email with a supposedly attachment from Parlay as to their findings. It read: there may have been a temporary disconnect. regardless, you must have another symbol with the wild symbol to be valid.
I argued the their finding with rob and was upset he didnt argue my point which was i didnt notice any disconnect of any kind and it states right on the game itself that the wild symbols replace all other symbols except the bonus symbols. not only that, the JP for this game is 5 wild brown chickens in a row pays 2500 coins. Not 4 chickens and another symbol. I got all white chickens, replacing all other symbols except bonus symbols.
Rob then said for me to contact Parlay and argue the situation? I said ok, and to give me a contact email. He did, but then immediately followed up with another email stating how bad he felt i did not win and offered me a comp of $800 that he said he would deposit in my account for my troubles. I was still actively playing at amigo bingo and was playing same get cracking game but only selected 1 line at 2 coins and landed on same thing again.
I thought something must be wrong but no one has given me any reason to believe this, and sent the screen shot of that to Charlotte asking what was going on? At this point I just assume something is wrong didnt contact Parlay and saw the $800 in my bonus area. Rob also said in email that any winnings generated from the comp is mine to keep. Said if Charlotte gave me any trouble when it came time to withdraw just to let him know and he would take care of it.
I asked Charlotte why the funds are in my bonus area when i can withdraw from it? Her response was, "no, not withdraw able." I didnt argue with her and x'd out of chat as i figured she didnt get email from Rob yet saying I can keep any winnings from comp. I play with this comp for 2 days, playing through $7500 and now wanted to cash out $1150. I tried but says I havent met playthrough requirements?
I contact charlotte and ask her what this was about and she replied I have to playthrough 30xs the deposit and 30xs the bonus?? Huh? What deposit? What bonus? She said I still had to playthrough $27,000. Lets just say this is true. It doesnt add up to what I have playedtrough already plus 30xs 800 deposit and i dont know how to calculate a bonus as it was $800 only. No bonus on top of comp. The numbers didnt add up no way no how.
I told her it was a comp, there was no deposit therefore no bonus. She repeated herself, playthrough 30xs the deposit and 30xs the bonus. I then contact Rob saying what charlotte is trying to pull and is when he starts back peddling saying he doesnt know what the playthrough is on a comp but if charlotte says its 30xs then it probably is.
I couldnt believe this! I sent him a email stating how upset I was and that he did this to me and he sent one back saying how he couldnt understand how i was complaining about being given something and how i was taking advantage. He didnt give me anything obviously as charlotte didnt let me withdraw the comp of $1150 that i won and of course lost it as there was no way possible to playthrough a deposit and bonus 30xs of $800 lol!
I didnt know what to do and deposited a few more times and was ready to cash out $598 when i couldnt log in a couple days ago. Charlotte said she closed my account due to fals claims of wins and refunded my 30 deposit but took my $598. Then the cherry on top, I get a stray email from Parlay saying they never got any information about the game and needed a game ID # to research it.
So neither charlotte nor rob ever sent the screen shots of game and were totally dishonest and i was treated unfairly. I have all the emails to forward to you but will need a email address please. Thank you for your help. I wouldnt know what else to do without you.